We are committed to producing gas grills that you can count on for the utmost in performance and built with quality materials for years of durability. Broil King gas grills are manufactured in North American plants located in Huntington Indiana, Dickson Tennessee and Waterloo Ontario.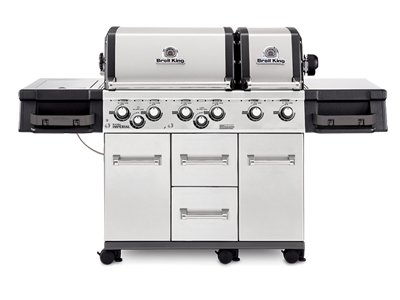 The Broil King® Imperial™ XLS features two totally independent ovens with a total of 1000 sq. in. of cooking space and includes 6 stainless steel Dual-Tube™ burners, professional cast stainless steel cooking grids, stainless steel Flav-R-Wave™ cooking system, built-in oven and control knob lights, two electronic igniters. The XLS features stainless steel side shelves with right side storage drawer and an enclosed cabinet base with two utility drawers and two cabinet doors.

State-of-the-Art ceramics and a patented draft door and vent cap deliver a wide range of easily adjusted cooking temperatures from high-heat searing to low-and-slow smoking. A hard-coat porcelain glaze ensures the signature green color will not fade or discolor under harsh outdoor conditions. Other improvements which have enhanced the traditional design include an easy opening spring-assisted hinge system and a durable stainless steel cooking grid.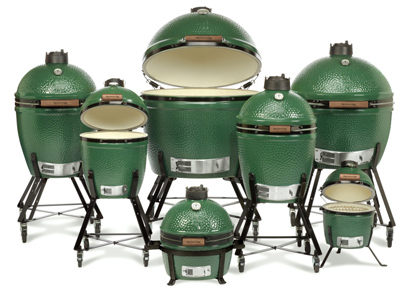 The Big Green Egg reaches perfect cooking temperature and is ready to use in just minutes. Our 100% lump charcoal is made in the USA from only the best cuts of natural oak and hickory for superb performance and results. Lighting the charcoal is always quick and easy, as the design of the Big Green Egg allows air flow to circulate efficiently. Use our natural charcoal starter or an electric starter … and never buy lighter fluid again!

The AOG Grill site is family owned and operated by a staff that has been in the outdoor industry for over 20 years.  We also have a construction business in the Bay Area of California.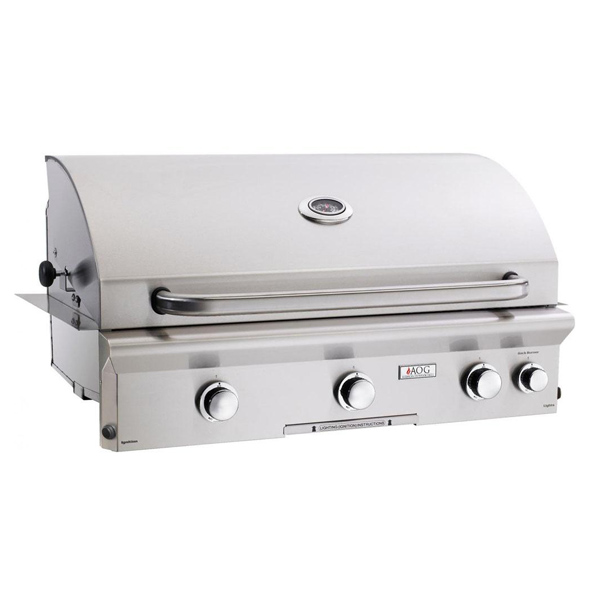 304 grade stainless steel for unsurpassed durability and proudly hand-crafted in the United States.
Button-activated interior halogen lighting illuminates the 648 square inch cooking surface for nighttime grilling.
Included rear infrared rotisserie burner with rotisserie kit for slow roasting poultry or roasts.
Thick stainless steel vaporizer panels deliver even heat distribution and minimize flare-ups.

Napoleon works with its customers designing and implementing features sought after by discriminating consumers around the world. Time after time Napoleon has led the way with new and innovative patented technology: luxurious Gas Grills , exclusive Infra-red grilling experience and some of North America's most advanced state-of-the-art technology. Innovative engineering and design, advanced manufacturing techniques, dedicated customer service, outstanding product quality, and superior warranties distinguish Napoleon from its competitors.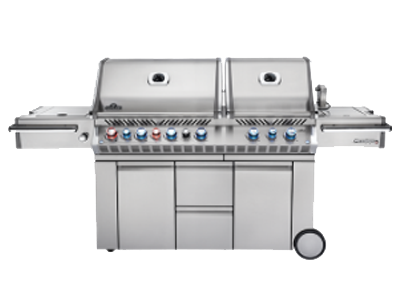 Napoleon's Prestige PRO™825 with PSide Burner and Infrared Rear and Bottom Burners is beautiful and spacious, proving that two heads are better than one. On the outside, shining stainless steel body provides durability against even the harshest elements while chrome details add luxury. Night grilling is easy with the blue NIGHT LIGHT™ control knobs featuring SafetyGlow, which turns knobs red when gas is on. Never worry about accidentally leaving the gas on again. The SafetyGlow knobs have the added benefit of knowing which burners are lit, making it easier to get the perfect sear or the ideal indirect grilling spots.
FOR THE FAMILY GET TOGETHER

We have cooked over 100 competitions with over half of those being top-10 overall finishes, including 15 grand championships plus four for the Dizzy Pig North team from Canada!
Dizzy Pig has competed in 15 states, mostly in the Mid-Atlantic region and surrounding states, and have gone as far as Missouri, Tennessee, and Vermont to compete.
Grand Championship wins earn us invites to the American Royal and the Jack Daniels World Championships where the Dizzy Team was honored to cook among the best teams in the country for six straight years.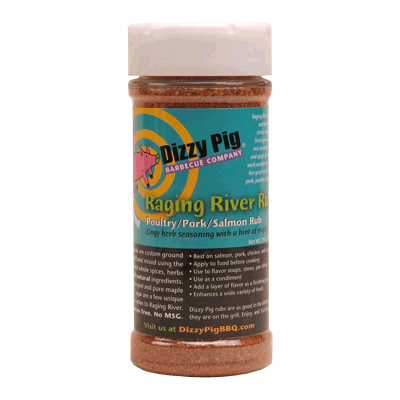 As the name implies, Chris created Raging River while in search of the perfect seasoning blend for salmon. We and our customers (lots of them) agree that Raging River may be the best seasoning blend in the world on salmon. In fact, our recipe for grill-crusted Maple Butter Glazed Grilled Salmon is now famous.
But surprise surprise surprise!! Raging River is really good on everything. Raging River has become the rub of choice for the Dizzy Pig Competition Team on their Pork Butts and Pork Ribs, and has won a ton of awards for other pro BBQ teams that use it. This one truly should be called "all-purpose", and the bonus is that everyone loves it, from kids to picky adults!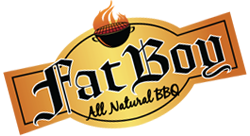 JB's Fat Boy is a line of products created to enhance every meal and barbequing experience. From our variety of barbecue sauces and rub you will find an excellence of product that is hard to surpass in today's market.
Our goal is to make every meal distinctively memorable and we hope our products can help you achieve that. Be sure to try each and every one of them, and see for yourself.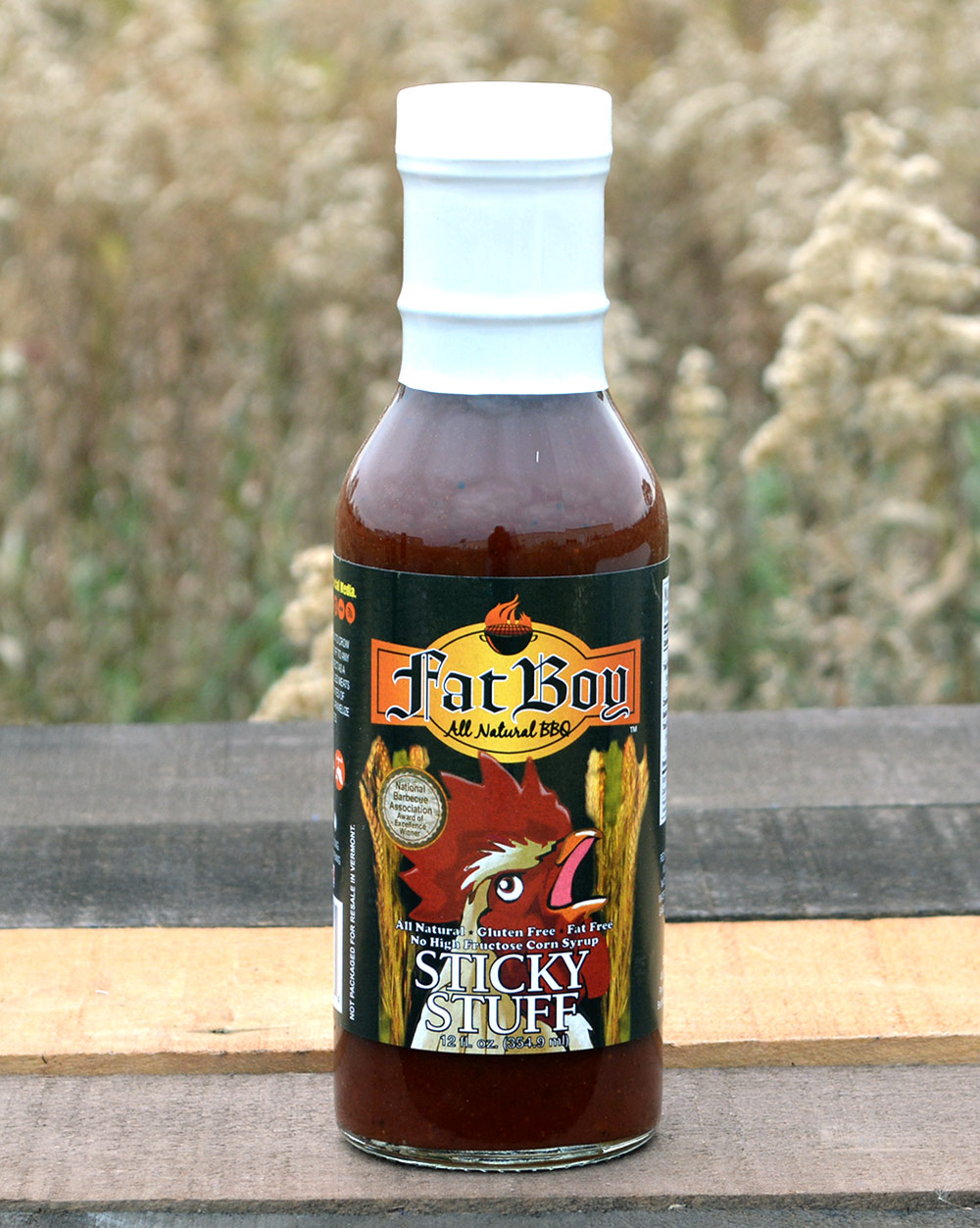 Make mealtime an occasion to crow about by adding sticky stuff to any meat product. Serve direct as a condiment or coat on grilled meats during the last few minutes of cooking time. Sauce will caramelize on meat when heated.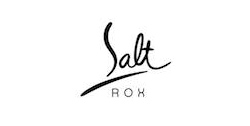 The Salt Rox family embraces and celebrates cooking as an important part of the satisfying experience of a great meal. All of our Salt Rox products are developed and introduced to provide you with a unique, enjoyable cooking experience and an unbelievably delicious meal! Our passion for food and beverages pushes us to continuously develop innovative salt cooking products and methods.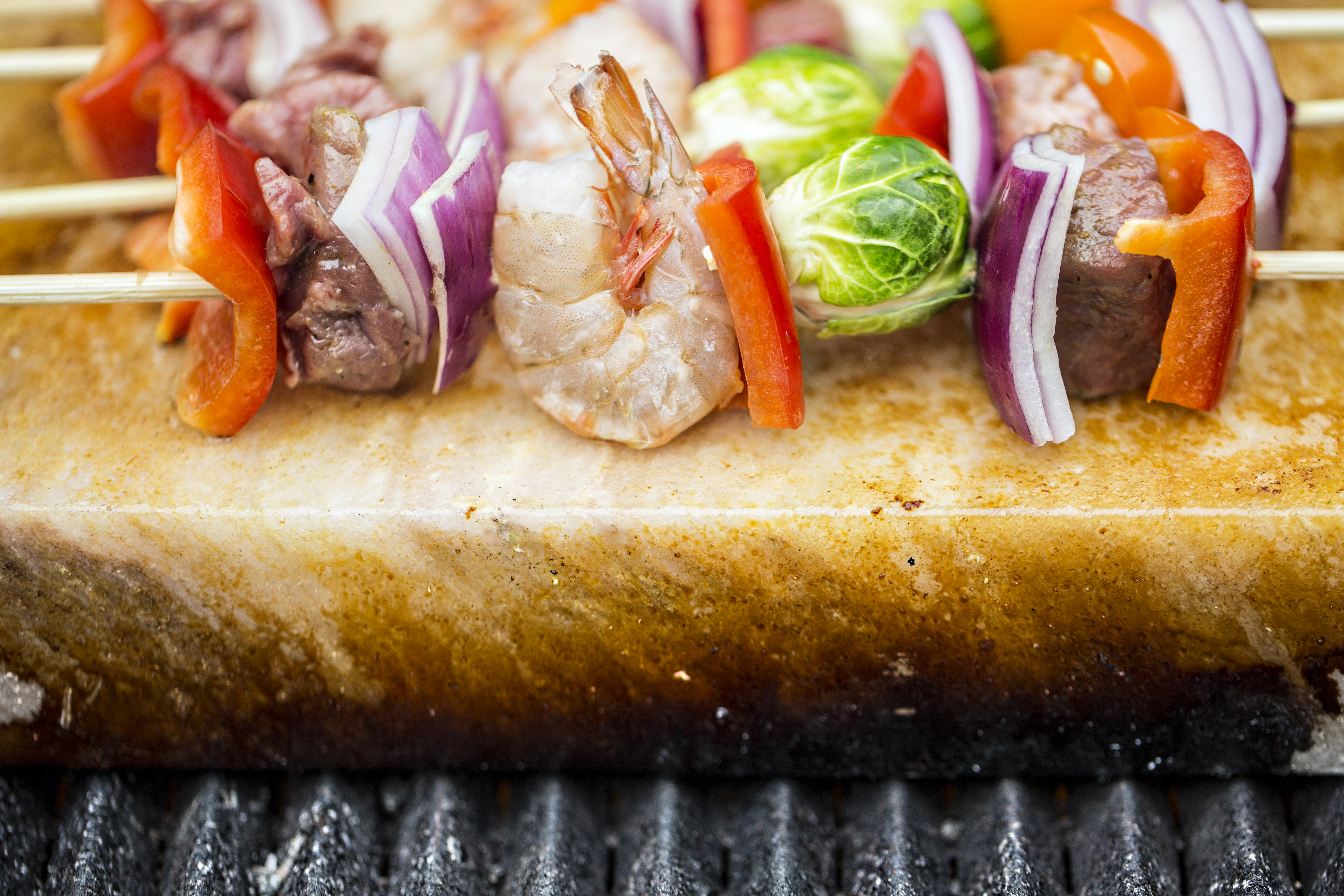 Salt Rox offers THE premier Himalayan Salt Cooking Block. The only salt cooking plate on the market actually safe for cooking. Perfect for fresh vegetables, seafood, poultry or beef. Heat your cooking block in the oven, on the stove top or on the grill to enjoy the flavorful goodness of anything cooked on this natural source of salt.

The Great Scrape is an all natural BBQ cleaning tool. It is an alternative to the old metal wire brush. It custom grooves to uniquely fit your barbecue grill without having to worry about metal bristles or harming your grill grates. It is made of solid hard wood and is designed for years of grilling pleasure.  It makes for the perfect grilling accessory or BBQ gift.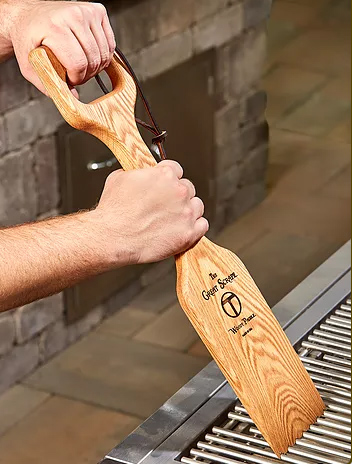 No metal scrapers that can damage the grates
Allows for two hands for extra leverage
Made of solid wood and is extremely durable
Thin tip that allows the grooves to form quickly
No dangerous wire bristles to worry about getting in your food

McCready Masonry & Chimney Restoration, family owned and operated since 1983, is a full range masonry and fireplace company. We offer everything and anything relating to chimneys, fireplaces, hearths and accessories.

 410.221.0599

 FAX 410.221.0824

 2601 Cambridge Beltway,
           Cambridge, MD